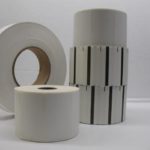 We manufacture a wide variety of die cut and butt cut labels and tags for transfer and direct thermal printing or hand applications.
Our equipment is capable of multi-color imprints for custom products or plain white, with a full line of paper stocks and adhesives.
As always, we are happy to recommend the right product based on your customers' needs.
Thermal labels and tags are manufactured by Label Mark-It, Inc. to perform in the following thermal printers:
Cognitive Blazer
Cognitive Blaster
Monarch®
Sato
Eltron
Zebra
And other Thermal Printers
Please contact us for all your thermal products.
All labels are manufactured by Label Mark-It, Inc. and are not made, sponsored, or affiliated with Monarch® Marking Systems, and Paxar® Americas, Inc. which are all trademarks.
Other trademarks and registered trademarks are the property of the respective companies. Labels and tags manufactured by Label Mark-It, Inc. are not made or sponsored by other printer manufacturers.